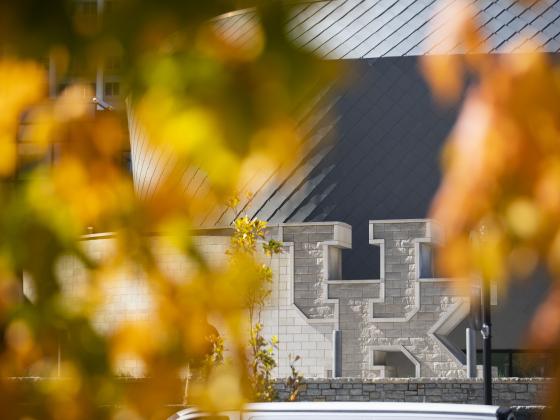 Welcome!
2022 UK-United Way Campaign

Our campus-wide goal for the campaign is $213,000.
This year, the faculty and staff of the University of Kentucky are being asked to support the United Way Campaign in the Bluegrass.  Last year, members of the UK community contributed over $193,000. Our contributions are now being put to work by United Way agencies throughout the Bluegrass.  This year, the needs may be even greater given the state of the economy.  We are confident that UK employees can be counted on once more to do their part in sustaining these life-enhancing and even life-preserving services for others in need.
Please browse our site during the campaign month of October and discover how you may participate in this year's campaign as we "Live United" across the University of Kentucky campus.
Each year the University of Kentucky's Retiree Campaign provides an opportunity for former employees to again become part of the University team.
The Retiree Campaign is ongoing. For information on how to donate as a retiree visit the Make a Pledge page.
To learn about volunteer opportunities, contact our United Way Campus Coordinator
Thank you for your continuous support of the University of the Kentucky and United Way of the Bluegrass!
UK United Way Pet Photo-Pet Costume Contest!
UK United Way Pet Photo-Pet Costume Contest!
Voting for the university-wide pet photo contest has begun and will continue through Friday, October 28th! A minimum donations of $1 is all it takes to cast your vote.
All funds raised by the photo submission will be credited toward the college, unit or department, of the person who submitted the photo.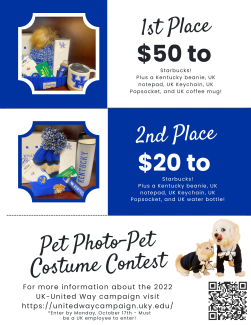 Enter to win football and airline tickets!
The UK-United Way campaign will end Monday, October 31st. Anyone who has donated via payroll deduction, cash or credit, will be entered into three separate drawings! We will be drawing for two sets of two tickets to the UK vs Vanderbilt football game on Saturday, November 12th and two Delta airline tickets! 
Cash donations can be collected by your area's United Way cabinet member or delivered to Paige Noland in 213A Main Building. To enter via payroll, please visit myUK to create a new payroll deduction (existing deductions will be automatically included in the drawing). 
To donate via debit or credit card, click the button below. Please make sure to list the University of Kentucky as your employer along with the name of the college, unit or department you are employed by.